Click on image for the 2019 Memorial Golf Outing Information
Sign up to receive emails from Beja: Email Sign-up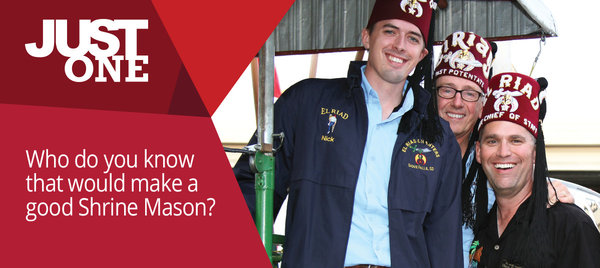 Beja Shrine Facebook Posts
I had a bit of a revelation yesterday as I was selling 50/50 tickets at Upper Clements Park. People were coming up and thanking me for the work I'm doing, and saying "We need more men like you." One woman, who has a Shrine Child, that makes the trip to Montreal at least once a year, said " That as soon as she saw my Fez she had to come over and buy some tickets."
It got me thinking, what did I do to deserve this adoration, I'm nothing special...its not me...its the HAT! When you wear the Fez it tells the world that you belong to a Brotherhood of men that have pledged themselves to the service of others, and not just for the kids, the finanical burden we lift off the parents that have a sick child and dont need anything else to worry about, gives me a profound sense of pride.
If you are a Master Mason...and are thinking about joing the Shrine, all I can say is DO IT! You won't regret it! ... See MoreSee Less
The Mother of a Shrine patient responds to this post: I saw a post today about a shriner being humble and saying he didn't feel he was worthy of all the praise and adoration he receives while wearing the fez hat and collecting donations. Let me tell you what I see. As I am writing this I am crying because y'all will never truly understand how much we love you. My daughter Zoe doesn't have a dad in her life. Not once has he called, sent her anything or tried to see her. He left me just as we found out she was going to be different. Well honestly he left me just before I found that out, however when he found out about her arm he chose to not participate at all in her life. My dad, Zoe's grandfather lives in Florida and we try to visit as much as we can but so far it's only been 3 times. So all you have become the men, the influencers, the role models in her life. As a parent of a shriner hospital patient I can't thank y'all enough. I know the many many hours sacrifice y'all make for children like mine. Thank the lord my Zoe is just missing part of her arm, there are many worse cases out there. I know the dedication you all put in, standing at store fronts, on corners, at events, plus most of you still have full time jobs and families of your own. I know that going to all these events costs money, every single time. I know that y'all participate and buy tickets also, not just 50/50 but jackpots, auctions. I know that you still take the time to send a child you have never met before a trading pin, a stuffed animal, a card with a gift card so she can get her tradition donut on Sunday mornings before church. Want to know what I see when I see y'all selling tickets, or at functions, or collecting money, or sweating off 3 layers of sweat at a circus in a tent selling hot food or under a ton of clown makeup? I see a hero. I see an incredible role model, I see a dad, uncle, grandpa teaching their families what it means to be selfless. Zoe is so proud to tell everyone she meets about being a shriner kid and about her shriner friends. I can never thank you enough or repay your kindness. Just know we love you. Mindy and Zoe Hixon #yaarabstrong #yaarabshrine #greenvilleshrinershospital #iamashrinerskid #teamzoe
I too am a former Shrine patient. My late uncle, my father in law, & hubby are Shriners!
Load more
Illustrious Sir Michael 'Mike' Belanger
Welcome to the Beja Shrine Website.
We hope you will enjoy your visit.
Not a Shriner? Have a question?
Call Beja Shrine at 920-498-1985.
We will do our best to answer your question.