2020 Potentate, Illustrious Sir James Van De Hey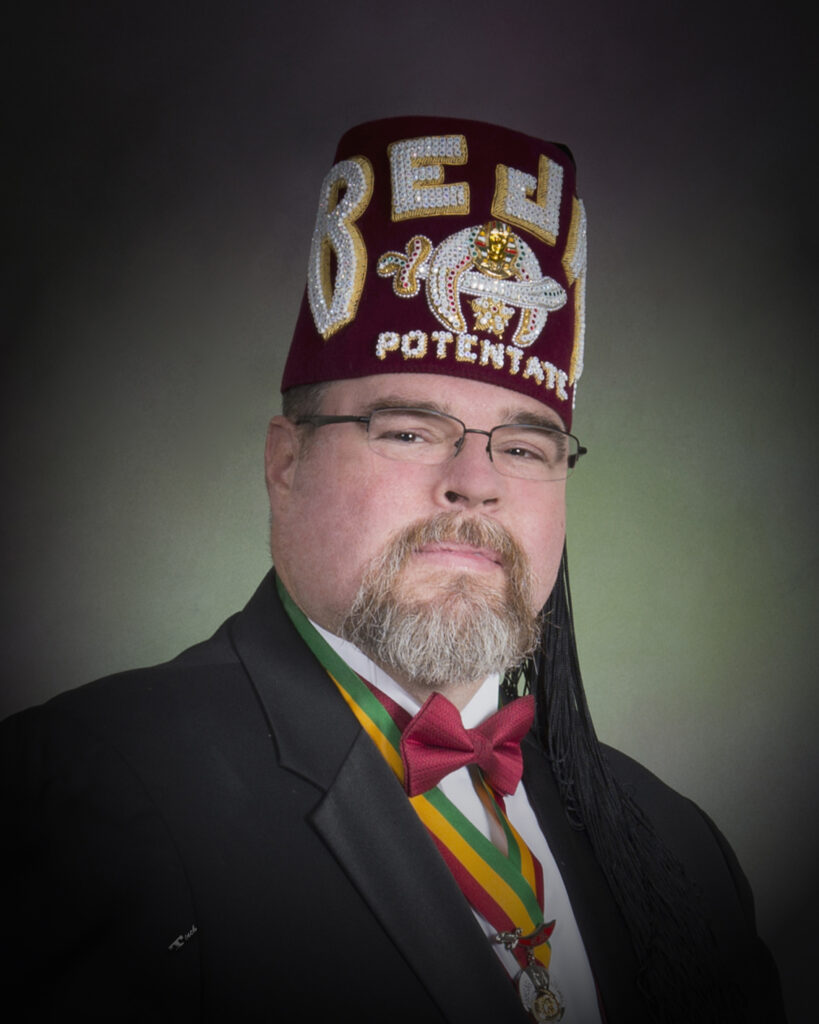 Greetings, I am very proud to represent Beja Shrine as your Potentate for 2020.  First, I would like to congratulate all the newly elected and appointed Officers for Beja.  Paulette and I both look forward to fun year for Beja.
I was born in Green Bay and raised in Denmark Wisconsin which is just 20 miles south of Green Bay.  My family moved to Florida in 1985 and I joined the US Army in March of 1986 and served until June of 1989.  I moved back to Green Bay in December of 1989 and met my Lady Paulette on December 13, 1989.  We married on April 27, 1991 in Mountain Wisconsin and have lived in Green Bay since.  I worked at Brillion Iron Works until being laid off in 1995.  I then started working at Procter & Gamble in February of 1996 in the Shipping Department and transferred to Bounty Paper Towel Converting Department in 2005 and became the Maintenance Planner for Bounty Converting. 
Paulette and I have 2 sons, Christopher was born in 1993 and is married to Jackie.  Christopher drives Semi hauling milk tankers to various cheese and milk plants throughout Wisconsin.  They have given us 2 beautiful Grandsons.  James who is 20 months and Ethan who is 8 months old.  Our youngest son Shawn was born in 1998 and Graduated from NWTC with a Mechanical/Electrical degree and is currently employed at Green Bay Packaging working in maintenance with the degree he received.
I was raised a Master Mason in June of 2008 in Theodore Roosevelt Lodge #322.   I am a perpetual member of Theodore Roosevelt Lodge #322 & Washington Lodge #21 in Green Bay.  I also have plural memberships in NEW Daylite Lodge #360 and Manawa Lodge #82.  I am a perpetual Member of Beja Shrine and Scottish Rite Valley of Green Bay.  I am also a member of all 3 York Rite bodies in Green Bay.  I served Grand Lodge of Wisconsin as an Area Administrator from 2015 to 2017 years, then serving as District Deputy Grand Master for District 4 in 2018.  I served on the Grand Lodge Education Team from 2017-2018.  I served as Worshipful Master of Theodore Roosevelt Lodge 322 in 2016 and I am currently the Worshipful Master of NEW Daylite Lodge 360 in Green Bay.  This is my 5th time serving as Master for NEW Daylite 360.  I served as President of the Shrine Fundraising Association for Shriners International in 2019 and currently the Secretary/Treasurer for the Association.
For my hobbies I enjoy camping, photography, golfing and fishing.  Spending time with my 2 Grandsons is one of the things I enjoy the most.  Last year I purchased the Super Fez from Past Potentate Dave Oshefsky and we have it running and look forward to having it in parades moving forward with the Veterans and Patriots Unit.  Paulette and I enjoy traveling the United States with our 5th Wheel Camper.  We have 2 Standard Schnauzers named Zee 7, and Jake 12.