Sign up to receive emails from Beja: Email Sign-up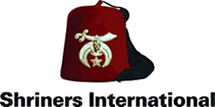 Beja Shriners
The "Official" Facebook Page for Beja Shriners located in Green Bay, WI. A fraternity of men with a mission dedicated to helping children. The fraternity founded and continues to support Shriners Hospitals for Children.

Illustrious Sir John Van Lanen
Welcome to the Beja Shrine Website.
We hope you will enjoy your visit.
Not a Shriner? Have a question?
Call Beja Shrine at 920-498-1985.
We will do our best to answer your question.