Our Healthcare Facilities
Shriners Hospitals for Children® is a network of non-profit medical facilities across North America. Children with orthopaedic conditions, burns, spinal cord injuries, and cleft lip and palate are eligible for care and receive all services in a family-centered environment, regardless of the patients' ability to pay.
Headquartered in Tampa, Florida, the facilities are owned and operated by Shriners International. Patients must be minors under the age of 18 and are not required to have any familial affiliation with the Shriners.
The Shriners Hospitals for Children facilities closest to Green Bay and Beja are in Minneapolis and Chicago.  Beja supports both of these facilities and transports patients to them but there has been the occasion of a patient needing to go for treatment at one of the other Shriners Hospitals because of the specialty care provided there.
Shriners Children's-Twin Cities
Since 1923, Shriners Children's Twin Cities' board-certified surgeons and staff have been providing high-quality medical care to all children, regardless of a family's ability to pay. Our clinic specializes in treating children with orthopaedic conditions in an environment designed to put children at ease. Every member of our team, from surgeons and therapists to nurses and prosthetists, work together to ensure the best course of treatment for each patient.
The staff at Shriners Children's Twin Cities proudly serve children in the upper peninsula of Michigan, Minnesota, Iowa, Nebraska, North Dakota, South Dakota, western Wisconsin, and into the Canadian provinces of Manitoba, Ontario, and Saskatchewan.
 Shriners Children's – Chicago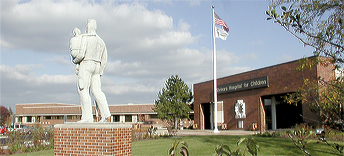 Located near Chicago's historic Oak Park neighborhood, Shriners Children's – Chicago is one of the busiest hospitals in our health system. Here we treat children with a host of orthopaedic and neuromusculoskeletal conditions, spinal cord injuries, as well as cleft lip and palate. Our inpatient and outpatient units are bright, cheerful and designed to put children at ease. From our world-class surgeons to our expert team of nurses, therapists, and clinicians, everyone here is focused on the needs of the child and family.
Shrine Hospital History 
Since opening the doors of our first hospital in Shreveport, Louisiana, in 1922, Shriners Children's has grown into one of the finest pediatric specialty health care systems in the world. Thanks to the dedication and hard work of members of the Shriners International fraternity – the organization that founded and continues to support the health care system – one hospital soon became two, two became 10, and by 1985 22 Shriners Hospitals for Children were making a difference in the lives of children in the U.S., Canada, and Mexico.
Shriners Children's has continued to evolve over the decades, so, too, has its brand. In 2007, the organization initiated a system-wide branding effort to create consistency in the look and feel of materials throughout the Shriners Children's healthcare system. Creating this brand cohesion and uniformity was paramount in an increasingly connected world, where we wanted to be recognized not as a loose network of individual hospitals, but as a united health care system that was changing the lives of children and re-inventing medical care through research and education.
What has never changed over the years is Shriners Children's dedication to providing the best specialty medical care to children, regardless of the families' ability to pay. So today, our brand builds on our history, honors our deeply-rooted traditions, and conveys our compassion, expertise, and dedication to improving the lives of children.
Historical marker noting the location of first Shriners hospital (1922) off King's Highway in Shreveport, Louisiana.