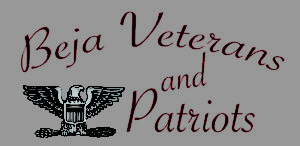 2023 Commander: Dennis Clark
The Veterans and Patriots Unit are Shriners who are veterans of the United States Armed Forces and non-veteran Shriners who support the Soldiers, Sailors, Airmen, and Marines of the United States Armed Forces. They serve as the Honor Guard for Beja Shriners and present the flags at our meetings, ceremonials, circus, and other special events. On most weekends during the summer months, you can find the uniformed Vets and Patriots parading throughout Northeast Wisconsin with their patriotically decorated bus, minibikes, Shriner go-karts, and Sammy, the inflatable Beja Shriner.

The Vets and Patriots can also be found cooking at Beja's summer events. They have become experts cooking Burgers and Brats for the attendees at our car shows and other events.

Please consider joining the Veterans and Patriots unit and have a wonderful time entertaining the crowds. Unit meetings are held at 6 pm on the 4th Monday of each month at the Shrine Center.