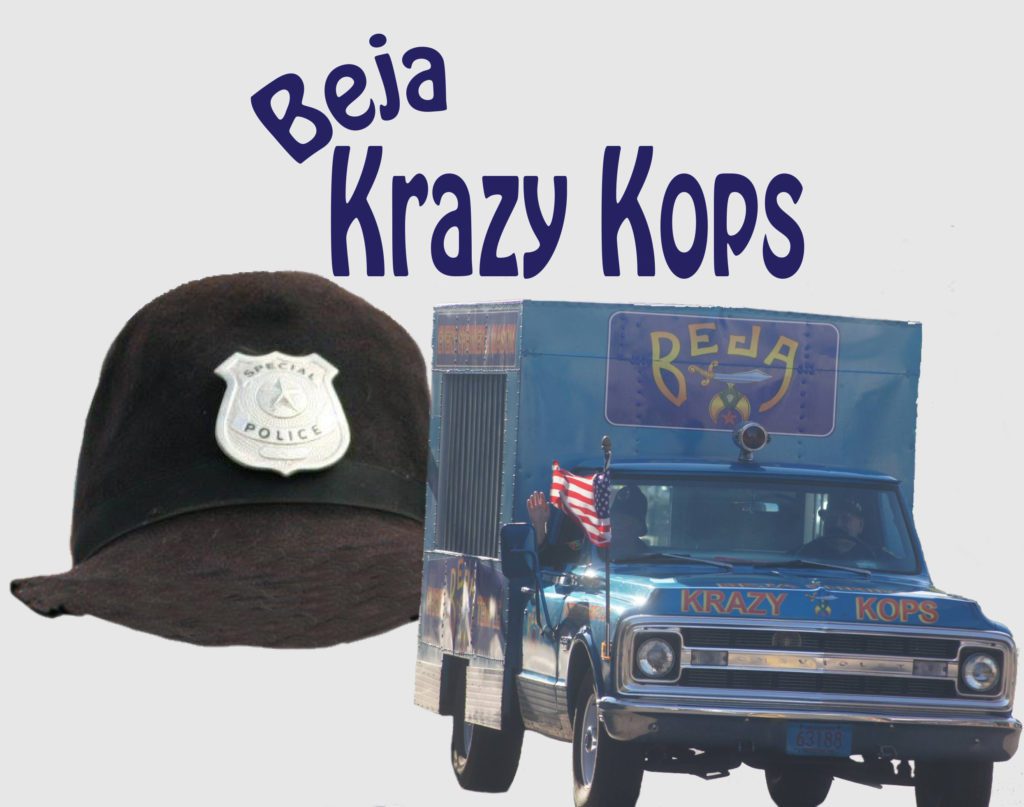 2023 Chief: Richard 'Dick' Andres
KRAZY KOPS –  A BRIEF HISORY
The Krazy Kops Korps was founded by the Intercity Shrine Club in February 1987 at Manawa Wisconsin. The unit is sponsored by the Intercity Shrine Club. The idea for the unit was conceived by then Potentate Floyd Meyer and Chief Rabban Hobart DeCaster. There were nine charter members, one of which is still living, Ray Hutchinson. In the past, there was a five-man quartet that performed at many functions.
There are many good reasons to join the Krazy Kops including; the unit is a type of Clown unit with Keystone Kops and Convicts' who participate in six to eight parades each summer, with a jail on the back of a old "69″ Chevy truck, arresting parade watchers until the jail is full, then there is a jail break, letting all prisoners escape. We have heard many times that we are the best unit in the parade. We request a donation of $500.00 to enter the parade, all the money less gasoline cost, to get the jail to and from the parade is forwarded each year to the Chicago and Minneapolis Hospitals. When allowed we pass out free tickets not good for anything, but are free, to spectators. The ticket gives directions as to how to contact a Hospital.
The money we raise through sponsors at the parades has consistently been the top dollars raised and donated to Beja's Parade to Glory. That is the time we make our presentation to the Shrine Hospitals. We only do six to eight parades each year respecting your desire to be with your family on weekends. Many times, our families join us and view the parade or help us by participating with us. There are currently fourteen active Kops and convicts and another six or more inactive members.
If you or any of your staff, friends or neighbors know of a child the Shriners might be able to help, please call our toll-free number, (800) 237-5055.
We have a annual meeting in the fall. Our dues are $10.00 per year. Many of the Kops & Convicts have their own uniforms. We do have uniforms that we keep on the jail that we lend to members.