HOSPITALS
The Shriners Hospitals for Children closest to Green Bay and Beja are in Minneapolis and Chicago.  Beja supports both of these Hospitals and transports patients to them but there has been the occasion of a patient needing to go for treatment at one of the other 20 Shriners Hospitals because of the specialty care provided there.
Shriners Hospital for Children-Twin Cities
March 12, 2013, marked the 90th Anniversary of Shriners Hospitals for Children-Twin Cities and it's because of amazing people like each one of you that we're still here!
 On March 27, 2013, Shriners Hospitals for Children-Twin Cities (SHC-TWI) announced it is a member of the Mayo Clinic Care Network (MCCN).
Shriners Hospital for Children – Chicago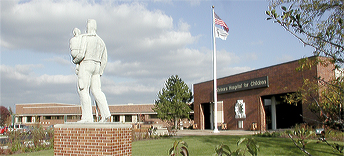 Located near Chicago's historic Oak Park neighborhood, Shriners Hospitals for Children — Chicago is one of the busiest hospitals in our health system. Here we treat children with a host of orthopaedic and neuromusculoskeletal conditions, spinal cord injuries, as well as cleft lip and palate. Our inpatient and outpatient units are bright, cheerful and designed to put children at ease. From our world-class surgeons to our expert team of nurses, therapists, and clinicians, everyone here is focused on the needs of the child and family.
Shrine Hospital History 
In 1920, the Imperial Session of the Shriners was held in Portland, Oregon. During that session, the membership unanimously passed a resolution to establish what at the time was called the Shriners Hospital for Crippled Children system. The first hospital in the system opened in 1922 in Shreveport, Louisiana. It provided pediatric orthopaedic care.
In 1962, the Shriners of North America allocated $10 million to establish three hospitals that specialized in the treatment and rehabilitation of burned children. After visiting 21 university-based medical institutions, the decision was made to build their first pediatric burn hospital on the campus of the University of Texas Medical Branch in Galveston, Texas.
In 1994, The Chronicle of Philanthropy, an industry publication, released the results of the largest study of charitable and non-profit organization popularity and credibility. The study showed that the Shriners Hospitals were ranked as the 9th "most popular charity/non-profit in America" of over 100 charities researched with 40% of Americans over the age of 12 choosing "Love" and "Like A Lot" for the Shriners Hospitals.
In 2009, despite an endowment that declined from $8 billion to $5 billion in less than a year because of the poor economy, Douglas Maxwell, the hospitals' CEO said he and other Shriners are confident the hospital system will be able to remain solvent in the long term. Maxwell stated in July 2009 that some of the facilities may become outpatient surgical centers, and will begin accepting insurance payments (for most care) for the first time in the hospitals' 87-year history. Maxwell said children suffering from burns, orthopaedic conditions, spinal cord injuries, and cleft palates will continue to be treated regardless of the patient's ability to pay.
Historical marker noting the location of first Shriners hospital (1922) off King's Highway in Shreveport, Louisiana.