The Vets of Valor and Patriots unit serves as the Honor Guard for the Beja Shriners. They can be seen presenting the flags at our installations, meetings, circus and other special Beja events. During the summer months, you can find the Vets on the weekends parading throughout northeast Wisconsin. With their patriotically decorated bus to their small go-karts, the Vets and Patriots sure can perform for the crowds. What would a parade be like without Sammy our Largest Beja Shriner present?
The Vets can also be found cooking at Beja's summer events. They have become experts cooking Burgers and Brats for the attendees at our car shows and other events. The Vets of Valor and Patriots meet during the evening at the Beja Shrine center on the 4th Monday of the month.
Please consider joining our Vets of Valor and Patriots and have a wonderful time entertaining the crowds.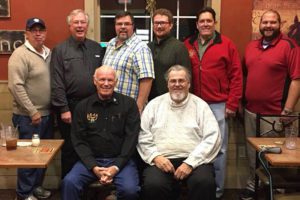 The 2017 officers are: Gary Fehl, Commander;
Getty Foss, Vice Commander; Gary Cornelissen, 1st Lt;
Mike Belanger, Adjutant/Finance Officer,
Mike Moen, Chaplain; and Jim VanDeHey, Quartermaster.
Installing officers were Chief Rabban Greg Habeck
and 1st Ceremonial Master Ben Rodgers