Aug. 17-20, 2022
Welcome from Beja Shriners
On behalf of the 390 Shriners and Ladies of Beja Shrine Temple, we would like to welcome you to the website for the 2022 session of the Midwest Shrine Association. Our goal is to make your time in Green Bay enjoyable and successful. Our team continues to work on your behalf to make sure you leave our area happy and content with the experiences you encountered in Northeast Wisconsin and the greater Green Bay area. To accomplish our goal, we need your help. As we progress with our planning, should any questions come up, we ask that you send them to us so we can address your concern or more importantly change our plans to enhance the experience. Please respond to greecejr@aol.com
It's our pleasure to introduce you to our team;
MSA President
Edward "Rusty" Mitchell, P.P. and his Lady Teddie
Rusty served as our Potentate in 2010. He has led our Ritualistic Divan and has been instrumental in introducing new members into the wonders of our fraternity. He is self-employed in the heating and air conditioning field. He enjoys performing and has a wonderful voice and recently learned how to play the Bass guitar to perform with the local high school artist in the performance of Mama Mia.
MSA 2022 Director General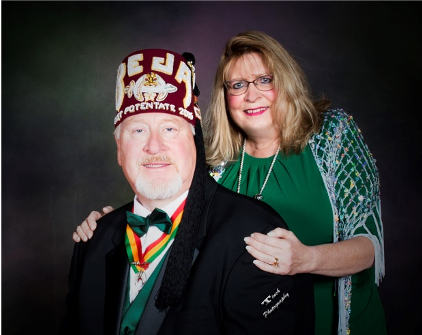 Eugene "Gene" Reece, Jr. P.P. and Lady Dawn
Gene served as our Potentate in 2016. He currently serves as our Recorder. He has led our Stop Burn Injury Unit and has been instrumental in growing the outreach of our program in burn prevention. He currently serves on the Board of Governors at SHC-Twin Cities. He is a retired Deputy Fire Chief serving in the fire service for 36 years. When not doing Shrine business he enjoys fishing.
MSA 2022 Deputy Director General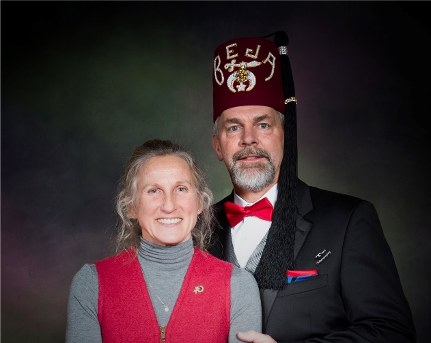 Robert "Bob" Dionne and Lady Kris
Bob is an active member of Beja, serving as the Northwoods Shrine Club President, Housing Chairman and a member of our Ritualistic Divan. Bob leads our nobility in recruiting new members from the Northwoods area. Bob retired from the Army, is a Nurse and currently teaches in the Nursing program at a local college. In his past time, he loves to create sausage and jerky serving as his own butcher. He hunts and enjoys the woods making his annual supply of maple syrup from his own trees.
DISCOVER ALL THE
HIDDEN TREASURES
TREASURES THAT MAKE GREATER GREEN BAY A SPECIAL PLACE TO VISIT.
Green Bay is Wisconsin's oldest settlement. The very first visitors to Greater Green Bay were successful entrepreneurs. From beaver pelts for European hat makers in the 1600s, to the invention of the world's first splinter-free toilet paper in the early 1900s, our ancestors used the area's waterways to grow the community's prosperity. Blessed with an abundance of natural resources, Green Bay was, and continues to be, a major shipping center. The city's largest employers remain the paper and shipping industries. With continuous development in Green Bay and its surrounding communities, the area boasts a progressive atmosphere from industrial parks to shopping districts.
In addition to being known around the world for contributions to industry and agriculture, Green Bay is the smallest city to host a National Football League team. Founded in 1919, the 13-time National Champion Green Bay Packers are the only NFL team to be owned by its fans.
Residents who move away to another city, often return home for the quality of life, family-friendly values and strong business community – not to mention the area's contagious spirit and personality. When you visit us, we're confident you'll #LoveGB.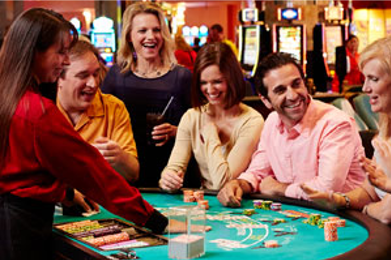 Welcome to our Host Hotel
MSA 2022 Headquarters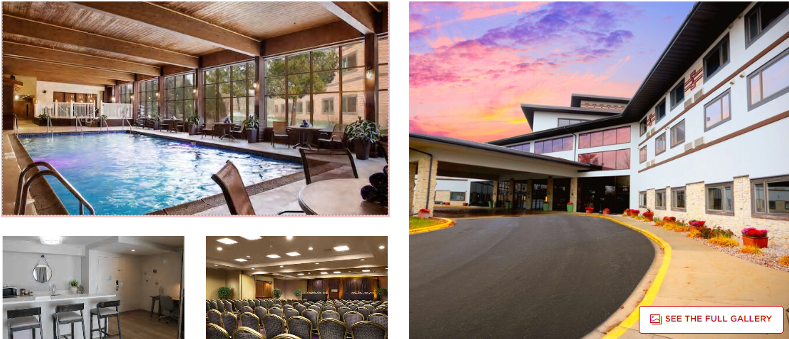 Radisson Hotel &
Conference Center Green Bay
https://www.radissonhotels.com/en-us/hotels/radisson-conference-green-bay
Walk to Oneida Casino through our Host Hotel
Whether you're in Green Bay for a convention, a vacation or a football game, you'll find a comfortable stay at the Radisson Hotel & Conference Center Green Bay. Our hotel's convenient location places you across the street from Austin Straubel International Airport (GRB) and about four miles from Lambeau Field, home of the Green Bay Packers. After a morning of meetings, try your luck at the tables and slot games of Oneida Casino, connected to the hotel via an interior walkway. If you crave a dose of the great outdoors, visit Thornberry Creek at Oneida, which offers exceptional golf less than seven miles away.
Enjoy a peaceful night's sleep in one of our 391 hotel rooms and suites near the GRB airport. Prepare for a business presentation at your large work desk, connect to free Wi-Fi to share vacation photos, and stay energized with a snack from room service.
Pine Tree Grill is the perfect place to enjoy a hearty breakfast and a dinner of mouthwatering steak or seafood. End your meal with a classic Wisconsin sampling of homemade fried cheese curds. After you've finished up the last meeting of the day, head to Purcell's Lounge Bar for a round of drinks with colleagues. Our on-site bar invites casual conversation with delicious cocktails, a variety of local beers, and a selection of fresh-squeezed fruit juices. Need an early-morning pick-me-up? Head to the inviting lobby for a pastry and a fresh cup of Starbucks® coffee, prepared just the way you like it in the hotel's coffee shop.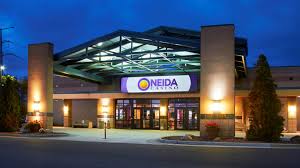 Welcome to the Oneida Casino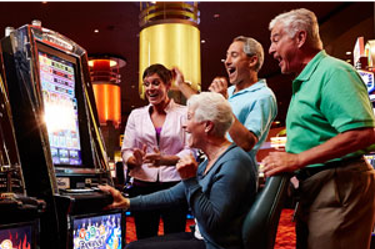 Slots
Oneida Casino offers over 2,000 slot machines within our Main-Airport, IMAC and W. Mason St. locations. Our tremendous selection of reel, video reel and video poker machines include casino classics, hot new games and everything in between.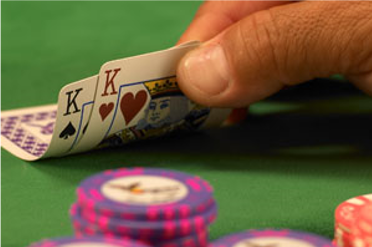 Table Games
Play any of the nine types of table games offered at our Main – Airport location. A private, high stakes area is also available. You must be 21 years of age to enter any Oneida Casino gaming area.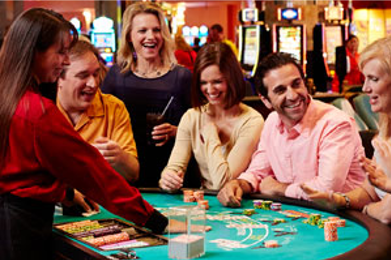 Poker
Live action is waiting for you in our 8-table private Poker Room. Play Texas Hold'Em, Seven Card Stud and Omaha. Betting begins at $2-$4, with no limit.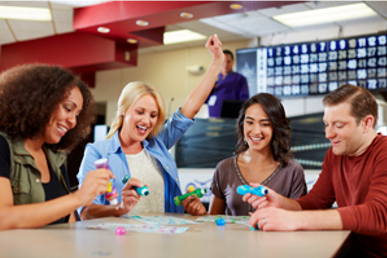 Bingo
Join us in our 700+ seat bingo hall for your chance to win our $250,000 JumbOneida game or one of 5 big progressive jackpots!